Gary Guller has led the largest cross-disability team to reach the base camp of Mt. Everest on April 6, 2003. The team had amputees, paraplegics and people with cerebral palsy who used a wheelchair to climb. Later, on 23rd May, 2003, Gary Guller became the first person with one arm to reach the summit of Mt. Everest.
He did not stop with the Everest. In the years to follow, Gary has climbed several of the world's highest peaks, completed an "Ironman Competition" consisting of a 1.2 mile swim, a 56 mile bicycle ride and a 13.2 mile run, raced in that order and without a break. Gary has completed Marathon de Sables where athletes run for six days for 250 km through the Sahara desert in the scorching sun that burns at a 100 degrees Fahrenheit.
Gary's answer to a few questions: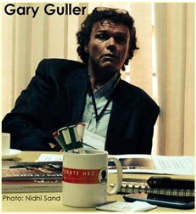 Q: What made you lead a cross disability team to the Everest?
Gary: The people with disability grow up hearing from all others what they cannot do. We all need to climb that Everest that lies within us.
Q: After you climbed the Everest, what made you compete in the world's toughest marathon across Sahara and the world's toughest triathlon – Ironman?
Gary: No obstacle should remain unchallenged and that no person should be dismissed without the opportunity to prove what their passion and determination can accomplish.
Q: What stops people from giving their best?
Gary: The fear of failure. We don't aim high enough because we are too scared to fail.
What stops you from setting goals that seem impossible? Love to hear from you.
Thank you to Mr. Abhijit Bhaduri